Cheese
Cheese For Your Baby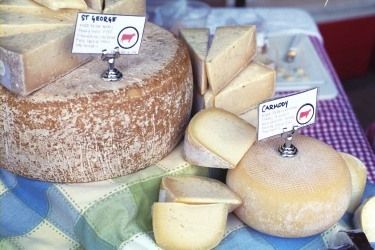 Here's a favorite kid food that is a great help to all caregivers. Usually if you add cheese to something - kids like it! There are so many different cheeses it can be difficult to know where to start. We suggest starting with a soft cheese such as fresh mozzarella and then moving on to harder bland cheese, such as Monterey Jack. Do not buy processed cheese. How do you know it is processed? This cheese, such as the brand "Velveeta," has been altered to increase storage life and contains preservatives and artificial colors. It is really easy to avoid processed cheese, and the difference in taste and consistency (as well as health) is worth it.
If your baby is at risk for food allergies, (for example: if they have eczema, asthma, allergies or if they have other family members with these conditions) then you should avoid all dairy products until your baby is at least one year old.
Cheese is in Week 12 of Babyfood101's Course - Please Join Us
Recommended products for your baby:
$29.99

As an Amazon Associate I earn from qualifying purchases
When is my baby ready?
8 months old
How to buy
Fresh mozzarella can be found packaged in salted water, but can be difficult to find. If no fresh mozzarella is available, there is mozzarella which is round in shape and wrapped in plastic. You want something as soft as possible but easy for your baby to pick up.
Homemade Baby Food Recipe
Just cut into small pieces and put on baby's tray.
How to store
If you get the mozzarella in water - store it there. If not, just wrap back up in plastic. It should last 1 week.
Are there baby food jars
No.
Should I buy organic?
Yes. If you can find it.
Adult Recipe
This recipe only works if you can get really good tomatoes. Unripe supermarket tomatoes will simply taste awful.

Mozzarella, Basil and Tomato Salad
fresh mozzarella
fresh basil
tomatoes
extra virgin olive oil
salt and pepper
Thinly slice mozzarella and tomatoes. Lay the mozzarella on a plate, then a leaf of fresh basil, then a slice of tomato. Layer until you run out of ingredients. Drizzle with extra virgin olive oil and dust with salt and pepper to taste.
Cheese is in Week 12 of Babyfood101's Course - Please Join Us