Bananas
Bananas For Your Baby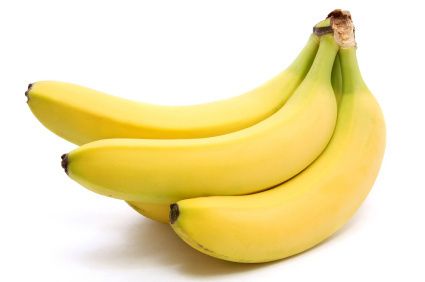 A very easily digested first food that babies like because it is sweet. It also has a wonderful package, the peel, so it can be taken everywhere. Bananas are the most eaten fruit in the United States. Mash a ripe banana and mix with liquid (water, formula, or breast milk) to make your babies' favorite consistency.
Bananas are in Week 1 of Babyfood101's Course - Please Join Us
Recommended products for your baby:
currently unavailable

As an Amazon Associate I earn from qualifying purchases
When is baby ready?
4 Months Old
How to buy
Look for bananas that are yellow and not very green (they may not ripen at home) and with no bruises. In addition, there are different varieties of bananas that are out there that you might like to try. There are red ones, and small yellow ones and they can have wonderful flavors. Give them a try!
Homemade Baby Food Recipe
Just mash with a fork and add liquid to adjust to a good consistency (loose for the beginning swallower). You can use formula, breast milk or water.
How to store
Store on your counter top until ripe. There all also baskets that you can hang from your ceiling that can be good space savers as well as banana hangers for your counter top.
Are there baby food jars?
Yes - but it seem ridiculous to buy a jar when a fresh one is so easy to find.
Should I buy organic?
No. Tough skin protects fruit from pesticide contamination.
Adult Recipe
What do you do with too many ripe bananas? Especially since your baby is probably only eating one teaspoon a day of the stuff - make banana bread - yum!
Simplest Banana Bread
2 cups flour
1 teaspoon salt
1 1/2 teaspoons baking powder
3/4 cup sugar
3 very ripe bananas mashed until smooth
2 eggs
1 stick butter (8 tablespoons)
1 teaspoon vanilla
Preheat over to 350 F. Grease a loaf pan. Mix together the dry ingredients and soften the butter in the microwave. Mix bananas, eggs, butter, and vanilla into the dry ingredients just until cohesive (do not over mix). Bake for 45-60 minutes until browned. Use the toothpick or fork method - insert toothpick in center of bread and it should come out mostly clean when done.
Bananas are in Week 1 of Babyfood101's Course - Please Join Us