Beets
Beets For Your Baby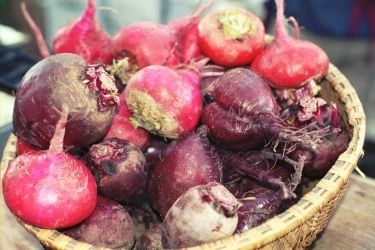 Fresh beets can be a problem for a time challenged person because they take a long time to cook. The best beets are baked in the oven for an hour. The good news is that this method means that you don't have to peel them. You can make a whole bunch and freeze them if you are organized. You can also buy canned beets that taste pretty good. They taste a little like the can and there is some added salt and sugar but they are still pretty good.
Beets are in Week 18 of Babyfood101's Course - Please Join Us
Recommended products for your baby:
$9.09

As an Amazon Associate I earn from qualifying purchases
When is baby ready?
8 months old
How to buy
Look for larger beets because they will be easier to handle. Buy firm beets and put in a plastic bag or buy canned beets.
Homemade Baby Food Recipe
To cook beets wrap them in foil, puncture them with a fork and place on a rimmed baking sheet. Heat oven to 350 F and bake for about an hour depending on the size of the beets. Peel and cut into chunks for baby. You may want to use gloves if you are worried about your hands getting stained with beet juice.
How to store
Beets will keep in the refrigerator for weeks.
Are there baby food jars?
No.
Should I buy organic?
Yes, if you can find them.
Adult recipe
This recipe makes use of the plain yogurt which you probably already have in the house for baby! This recipe is adapted from Jacques Pepin's "Simple and Healthy Cooking".

Yogurt Beet Salad
1 pound beets sliced
1/2 cup plain yogurt
1 tablespoon chopped fresh dill, parsley, or cilantro leaves
1 teaspoon red wine vinegar
1 teaspoon sugar
1/2 teaspoon salt
pepper to taste
Combine yogurt, fresh dill, vinegar, sugar salt and pepper in a bowl large enough to hold the beets. Add beets and serve at room temperature.
Beets are in Week 18 of Babyfood101's Course - Please Join Us