Week 19: Spinach and Ricotta Cheese
Spinach
Spinach For Your Baby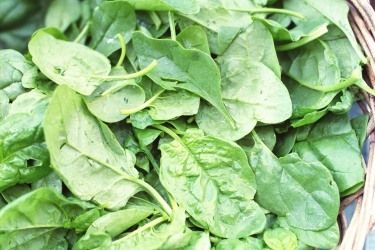 Popeye was a great motivator for earlier generations to eat their spinach. Perhaps the Teletubbies should stop eating custard and start eating spinach so we can promote eating this wonderful nutrient source. Fresh spinach now comes washed in bags, which can save lots of preparation time. Fresh spinach that is not in bags must be rinsed in multiple changes of water to rid it of sand and dirt, and the woody stems must be removed. Frozen spinach is also an option that tastes pretty good and needs hardly any preparation time.
Recommended products for your baby:
currently unavailable

As an Amazon Associate I earn from qualifying purchases
When is baby ready?
8 months old
How to buy
Buy unwashed spinach, washed spinach in a bag, or chopped spinach in the frozen section. Fresh spinach should be used as soon as possible.
Homemade Baby Food Recipe
Steaming or microwaving spinach are the easiest ways to prepare it.
Simmering - put it in a saucepan cover with a few tablespoons salted water, and cook on high until the spinach wilts.
Microwaving - put spinach in a shallow bowl with 2 tablespoons water. Cover with a lid or plastic wrap. Microwave on high for 1 minute to check how wilted the spinach is - then microwave at one minute intervals until finished.
If you are using frozen spinach follow the directions on the package.
You may have to puree spinach or chop into very small pieces for baby. Your baby needs some really good molars to chew on spinach.
How to store
Store in a plastic bag in the lettuce crisper. Use as soon as possible.
Are there baby food jars?
No.
Should I buy organic?
Yes. 83% of spinach sampled by the USDA contained pesticides.
Adult Recipe
Please see recipe below under ricotta cheese.
Ricotta Cheese
Ricotta Cheese For Your Baby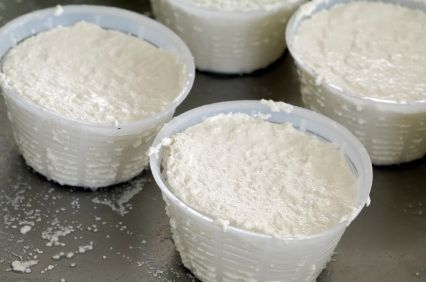 When you think of ricotta cheese, you probably think of lasagna. Ricotta is also used in desserts such as cannoli and can just be eaten with some raisins and cinnamon. Ricotta is a fresh, soft, snowy white cheese with a rich but mild, slightly sweet flavor. The texture is much like a grainy, thick sour cream. Ricotta is naturally low in fat and salt. A similar product that is a little harder in texture is Farmer's cheese. Farmer's cheese is also an easy one for baby to digest.
If your baby is at risk for food allergies, (for example: if they have eczema, asthma, allergies or if they have other family members with these conditions) then you should avoid all dairy products until your baby is at least one year old.
Recommended products for your baby:
$5.99 $4.78

As an Amazon Associate I earn from qualifying purchases
When is baby ready?
8 months old
How to buy
Look for "whole milk" ricotta for your baby.
Homemade Baby Food Recipe
Feed directly to baby or mix with favorite fruit or veggies. Ricotta is a good food for the beginning spoon user because it will stick to the spoon.
How to store
An open container of ricotta will keep for 7-10 days.
Are there baby food jars?
No.
Should I buy organic?
Yes, if you can find it.
Adult Recipe
Here is an "upscale" version of macaroni and cheese. This recipe is adapted from Marcella Hazan's "Essentials of Italian Cooking".

Spinach and Ricotta Pasta
1 pound penne pasta
1 10 package frozen chopped spinach or 1 pound fresh spinach
1/2 cup ricotta
1/2 cup grated parmesan cheese
salt and pepper to taste
If using fresh spinach, steam and then chop. Squeeze moisture out of frozen and fresh spinach. Cook pasta according to package directions and when drained put back in pot. Add spinach, ricotta, parmesan, and salt to taste.
Eating tip of the week
A fruit or vegetable your baby might have hated a few months ago - might be a favorite now. Don't decide for your baby what he or she will eat. Keep putting new and old things on her tray and get out of the way.
Week #19 Shopping List
Baby Food
spinach (bagged, fresh, or frozen)
whole milk ricotta cheese
Adult Food
1 pound penne pasta
1 pound frozen chopped spinach or 1 pound fresh spinach
1/2 cup grated parmesan cheese
salt
pepper