Week 18: Cauliflower and Beets
Cauliflower
Cauliflower for Your Baby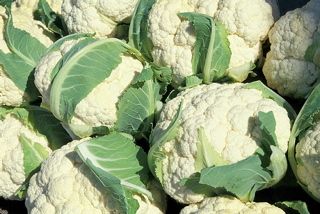 Cauliflower is closely related to broccoli, which is probably why it is hated almost as much. It can be cooked in the exact same way - so if you have a favorite broccoli recipe use it for cauliflower! It can be eaten raw (but probably not by baby) and it is extremely nutritious. There are a couple of varieties of cauliflower. You may have seen broccoflower at the store, and it is fun to try different ones to find the one that you prefer.
Recommended products for your baby:
$12.99

As an Amazon Associate I earn from qualifying purchases
When is baby ready?
8 months old
How to buy
You should look for a cauliflower that is white with no brown spots. The leaves should be fresh and crisp looking. Frozen cauliflower really loses its texture so don't buy it.
Homemade Baby Food Recipe
Simmering or microwaving cauliflower are the easiest ways to prepare it. Remove outer leaves and cut into florets.
Simmering - put it in a saucepan cover with salted water, and cook on high until the thick florets can be pierced with a fork (about 8 minutes).
Microwaving - put them in a shallow bowl with 2 tablespoons water. Cover with a lid or plastic wrap. Microwave on high for 3 minutes, shake the container, and microwave at 1 minute intervals until the florets are tender.
Cut up the tenderest pieces for your little one and just place on her tray.
How to store
Cauliflower will keep for 7 days in the bottom of the fridge. It is a good one to buy and then use later when you run out of the more perishable vegetables.
Are there baby food jars?
No
Should I buy organic?
No, they have a tough leaves that protect it from pesticide contamination.
Adult Recipe
Use our Parmesan Broccoli recipe and use it here or try this one:
Warm Cauliflower Salad
1 head cauliflower
extra virgin olive oil
red wine vinegar
salt
Prepare 1 head cauliflower as above. Right after you drain the cooked cauliflower, put the florets in a bowl and season liberally with salt, extra virgin olive oil, and vinegar. Taste to adjust seasonings and serve.
Beets
Beets For Your Baby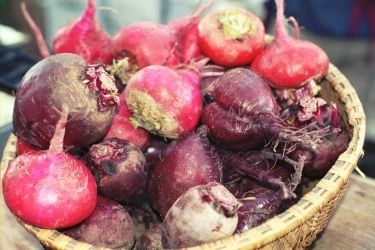 Fresh beets can be a problem for a time challenged person because they take a long time to cook. The best beets are baked in the oven for an hour. The good news is that this method means that you don't have to peel them. You can make a whole bunch and freeze them if you are organized. You can also buy canned beets that taste pretty good. They taste a little like the can and there is some added salt and sugar but they are still pretty good.
Recommended products for your baby:
$129.99

As an Amazon Associate I earn from qualifying purchases
When is baby ready?
8 months old
How to buy
Look for larger beets because they will be easier to handle. Buy firm beets and put in a plastic bag or buy canned beets.
Homemade Baby Food Recipe
To cook beets wrap them in foil, puncture them with a fork and place on a rimmed baking sheet. Heat oven to 350 F and bake for about an hour depending on the size of the beets. Peel and cut into chunks for baby. You may want to use gloves if you are worried about your hands getting stained with beet juice.
How to store
Beets will keep in the refrigerator for weeks.
Are there baby food jars?
No.
Should I buy organic?
Yes, if you can find them.
Adult recipe
This recipe makes use of the plain yogurt which you probably already have in the house for baby! This recipe is adapted from Jacques Pepin's "Simple and Healthy Cooking".

Yogurt Beet Salad
1 pound beets sliced
1/2 cup plain yogurt
1 tablespoon chopped fresh dill, parsley, or cilantro leaves
1 teaspoon red wine vinegar
1 teaspoon sugar
1/2 teaspoon salt
pepper to taste
Combine yogurt, fresh dill, vinegar, sugar salt and pepper in a bowl large enough to hold the beets. Add beets and serve at room temperature.
Eating tip of the week
Warn your baby's other caretakers about the addition of beets to your babies' diet. The beets will color the diaper and might resemble blood.
Week #18 Shopping List
Baby Food
cauliflower
beets (fresh or canned)
Adult Food
olive oil
red wine vinegar
salt
plain yogurt
fresh dill, parsley, or cilantro
sugar