Our 6 month course as an E-Book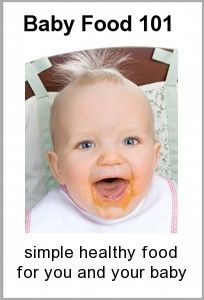 Only $5
Want to have a printable way to access Baby Food 101's course? Buy our PDF e-book, download it, and print it for a hard copy reference guide.
Easy to print - pictures have been removed so ink is not wasted
Index of all 52 age appropriate foods for easy reference
Eating tips to help aid the liquid to solid transition
How to prepare the baby food if you have the time or inclination to make it yourself
Organic or not? when SHOULD you spend the money
Find out if baby food jars available for this food
Easy adult recipes for baby's fruit and vegetables
72 pages, PDF format
After paying at Amazon you will be able to download your copy to your personal computer and access using Adobe Acrobat (free software).