Watermelon
Watermelon For Your Baby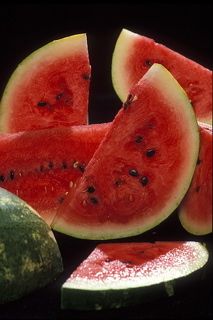 Watermelon can be a great first finger food, because it has a soft consistency, but baby can still pick it up. It doesn't have much in it other than water, but it is great on a hot day. Look for seedless watermelon, and sometimes you can find it in containers already cut up (a great time saver!). You can usually find small watermelons all year round at the grocery store, but they are really prevalent in summer.
There are more than fifty varieties of watermelon ranging in size from less than a pound, to more than two hundred pounds with flesh that is red, orange, yellow, or white, so there are lots to try if you love watermelon!
Watermelon is in Week 14 of Babyfood101's Course - Please Join Us
Recommended products for your baby:
$9.99

As an Amazon Associate I earn from qualifying purchases
When is baby ready?
8 months old
How to buy
Look for a seedless firm watermelon or buy watermelon chunks in the salad section of your supermarket.
Homemade Baby Food Recipe
Watermelon keeps well in its cut up state. You frequently see watermelon in mixed fruit containers at stores because it keeps so well this way. When you decide to eat it, cut all of it up and put in a container to save yourself some time.
How to store
Store whole watermelon in refrigerator or on the counter. Eat chunks within a few days.
Are there baby food jars?
No.
Should I buy organic?
No. it has a tough rind so it probably doesn't contain pesticides.
Adult Recipe
Try serving this to baby too, if your baby likes cheese.
Watermelon Feta Salad
4 cups seedless watermelon diced
8 oz feta cheese crumbled
1/4 cup chopped fresh parsley (optional)
salt and pepper to taste
Toss watermelon, feta and parsley in serving bowl and put in fridge. Do NOT serve this salad at room temperature because the feta goes soggy and the watermelon gets a strange texture.
Watermelon is in Week 14 of Babyfood101's Course - Please Join Us