Ricotta Cheese
Ricotta Cheese For Your Baby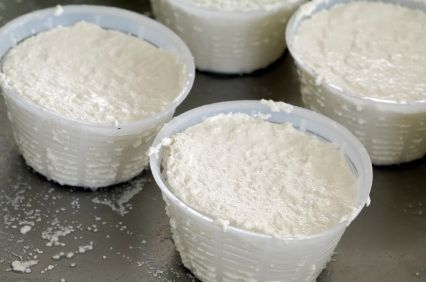 When you think of ricotta cheese, you probably think of lasagna. Ricotta is also used in desserts such as cannoli and can just be eaten with some raisins and cinnamon. Ricotta is a fresh, soft, snowy white cheese with a rich but mild, slightly sweet flavor. The texture is much like a grainy, thick sour cream. Ricotta is naturally low in fat and salt. A similar product that is a little harder in texture is Farmer's cheese. Farmer's cheese is also an easy one for baby to digest.
If your baby is at risk for food allergies, (for example: if they have eczema, asthma, allergies or if they have other family members with these conditions) then you should avoid all dairy products until your baby is at least one year old.
Ricotta Cheese is in Week 19 of Babyfood101's Course - Please Join Us
Recommended products for your baby:
currently unavailable

As an Amazon Associate I earn from qualifying purchases
When is baby ready?
8 months old
How to buy
Look for "whole milk" ricotta for your baby.
Homemade Baby Food Recipe
Feed directly to baby or mix with favorite fruit or veggies. Ricotta is a good food for the beginning spoon user because it will stick to the spoon.
How to store
An open container of ricotta will keep for 7-10 days.
Are there baby food jars?
No.
Should I buy organic?
Yes, if you can find it.
Adult Recipe
Here is an "upscale" version of macaroni and cheese. This recipe is adapted from Marcella Hazan's "Essentials of Italian Cooking".

Spinach and Ricotta Pasta
1 pound penne pasta
1 10 package frozen chopped spinach or 1 pound fresh spinach
1/2 cup ricotta
1/2 cup grated parmesan cheese
salt and pepper to taste
If using fresh spinach, steam and then chop. Squeeze moisture out of frozen and fresh spinach. Cook pasta according to package directions and when drained put back in pot. Add spinach, ricotta, parmesan, and salt to taste.
Ricotta Cheese is in Week 19 of Babyfood101's Course - Please Join Us