Green Beans
Green Beans For Your Baby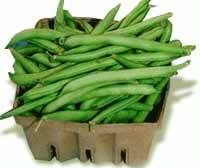 This is not an obvious first food for baby, but we want him to get used to green things too! You can find baby food jars with green beans as an ingredient, though it can be difficult. If you have only had green beans in a casserole, try them again! They are delicious when they are really fresh and are terrible when not fresh. Haricot verts are also green beans, just longer and thinner.
Green beans are in Week 7 of Babyfood101's Course - Please Join Us
Recommended products for your baby:
$9.18

As an Amazon Associate I earn from qualifying purchases
When is baby ready?
7 months old
How to buy
We recommend buying fresh green beans. They truly taste the best. Do not buy cans of green beans because they contain added salt. You can buy frozen beans but their taste and texture is really compromised by the freezing process. If you can find really fresh green beans (in season from May to October) you have a delicious treat. Tough or limp beans just taste terrible.
Homemade Baby Food Recipe
On Stove
Snip off stem end and put in saucepan. Add just enough water to cover bottom of pan (about 1 cup) and put the lid on. Heat until boiling and cook until tender - about 6 minutes (for baby) and crisp for you - about 4 minutes. You could pull out your beans and cook baby's a little more to obtain the right tenderness.
In Microwave
Place in shallow bowl with 2 tablespoons water - cover with lid or plastic wrap. Microwave on high for 2 minutes and shake them - and microwave for 1 minute intervals until they are tender enough for you and baby.
After cooking, mash them with a fork or puree them with a blender to get to your baby's needed consistency.
How to store
Place in plastic bag in bottom of refrigerator. Can keep up to 5 days.
Are there baby food jars?
Yes. Usually mixed with rice cereal.
Should I buy organic?
No. Pesticide contamination is not a problem with beans.
Adult Recipe
Since we just cooked some beans for baby, we could just eat our beans with some salt and pepper or add a salad dressing to dress them up.

Things to add to hot beans:
lemon juice
salt and pepper
butter
salad dressing

Easy Vinaigrette for Beans

extra virgin olive oil (good quality)
red wine vinegar
salt and pepper
Coat beans in oil (just guess the amount you need by the amount of beans you have). Add red vinegar to taste and dust with salt and pepper. If you like mustard - just add a little. The key is to keep tasting the beans until you get your favorite flavor.
Green beans are in Week 7 of Babyfood101's Course - Please Join Us