Peanut Butter (thinned)
Peanut Butter For Your Baby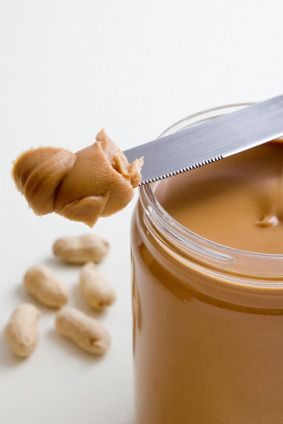 If your family has a history of nut allergies, you probably should wait until your baby is 12 months old before introducing nuts. Don't be limited to buying just peanut butter, the American staple. It has become easy to find almond butter, walnut butter, and cashew butter which are also very tasty. It is important to buy peanut butter without any added sugar or oils. Peanut butter doesn't need anything added to it to taste delicious.
Peanut butter can be a choking risk if it is too thick for baby to swallow. Thin the texture for baby in agreement with baby's eating skills.
Peanut Butter is in Week 20 of Babyfood101's Course - Please Join Us
Recommended products for your baby:
$129.99

As an Amazon Associate I earn from qualifying purchases
When is baby ready?
8 months old or longer depending on family history
How to buy
Buy smooth peanut butter that has one ingredient in it - peanuts. This may be difficult to find so if there is added salt - go ahead and buy it. Skippy and Jif have added sugar. Look for organic or natural peanut butter. It might have oil separation but that is easy to mend (just mix it).
Homemade Baby Food Recipe
Peanut butter is a great way to add a little protein to those ubiquitous crackers you are feeding your baby. It can be difficult for baby to eat thick peanut butter, so mix a little water in it before you spread on bread or crackers to make it more palatable.
How to store
Store peanut butter in the refrigerator.
Are there baby food jars?
No.
Should I buy organic?
Yes, if you can find it.
Adult Recipe
Add some roasted to chicken to to make a meal of it. This recipe is adapted from Mark Bittman's "How to Cook Everything".

Noodles with Peanut Sauce
1 pound spaghetti
1 tablespoons dark sesame oil (can substitute vegetable oil)
1/2 cup peanut butter
1 tablespoon sugar
1/4 cup soy sauce
1 tablespoon red wine vinegar
1/2 cup minced scallions, parsley, or cilantro
Cook spaghetti via package directions. Toss with sesame oil after draining. Mix peanut butter, sugar, soy sauce, and vinegar. Adjust seasonings with salt and pepper and thin sauce to the consistency of heavy cream. Toss the noodles and the sauce, garnish and serve.
Peanut Butter is in Week 20 of Babyfood101's Course - Please Join Us