Oatmeal
Oatmeal For Your Baby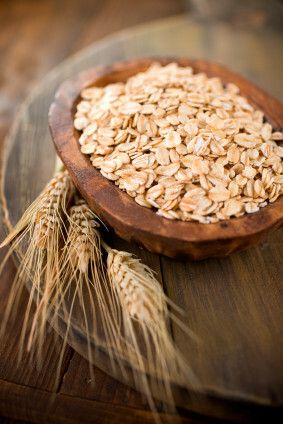 Warm oatmeal can be so good on a cold morning - yum. It is a good thing to introduce oats early because they are the basis for a popular first finger food, Cheerios. Whole oats have numerous health benefits for you and baby. Whole grain means that the nutritious part of the grain has not been removed, so with baby you want to try to give a "whole grain" whenever possible. If you never have time for breakfast in the morning, this may be a good one to introduce on a Saturday or Sunday. Making whole oats can take about 10-15 minutes. Here is a good chance to model eating for your child because you can make the oats and sit down and eat with her.
Oatmeal is in Week 6 of Babyfood101's Course - Please Join Us
Recommended products for your baby:
$29.99

As an Amazon Associate I earn from qualifying purchases
When is baby ready?
7 Months Old
How to buy
There are 2 main choices for oatmeal for your baby:
Box of baby food oatmeal - already ground up (like rice cereal) you just add liquid
Buy regular oatmeal - cook it and puree to baby's consistency
DO NOT buy the flavored, sugared, processed oatmeal packets for baby (for you - no problem).
Homemade Baby Food Recipe
There are three basic types of oatmeal found in a regular grocery store. All of these types have good instructions on how to cook them on the side of the package. Obviously, a store such as Whole Foods has many more choices for oatmeal.
Instant Oatmeal - it has been cut up so it only takes one minute to cook
Rolled Oats Oatmeal - after bringing water to a boil it takes 5-6 minutes to cook at a simmer (see below)
Steel cut Oatmeal - probably the most delicious and hard to find - but try it if you see it
Why would you cook the rolled oats version? The taste and consistency is so much better than instant (and those little packets are expensive and not very filling).
How to store
Keep rolled oats in the refrigerator. Instant can be kept in the cupboard.
Are there baby food jars?
No, but can be mixed in with other things (such as prunes).
Should I buy organic?
It can be VERY difficult to find organic oatmeal so don't make it a priority. If you see it, buy it because it can taste much better than conventional oatmeal
Adult Recipe
Whole Oat Oatmeal

2 1/4 cup water
1 cup rolled oats
butter to taste (optional)
and any additions you enjoy such as: maple syrup, brown sugar, raisins, salt, milk, cream, cut up apples, berries, etc.
Mix the water and oats in small saucepan and boil. Then turn heat to low and cook stirring until the water is just absorbed (about 5 minutes). Cover pan and turn off the heat. 5 minutes later uncover the pan and add other ingredients and serve.
Oatmeal is in Week 6 of Babyfood101's Course - Please Join Us