Rice Cereal
Rice Cereal For Your Baby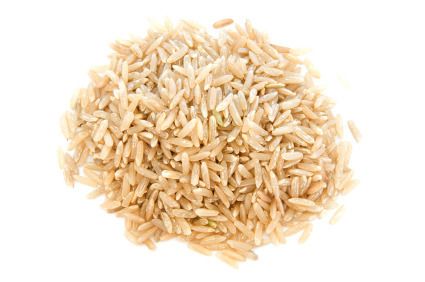 This is the most recommended first food for babies in the United States. You can find it in a cardboard box with the baby food at the grocery store. It is a good choice for a first food because very few people have an allergy to rice and rice cereal is easily digestible. In addition, rice cereal is fortified with iron because it can be difficult for baby to get enough iron in his first year. Rice cereal is also easy to make because it is already cooked and dehydrated. Just mix it with water, breast milk, or formula to a very soupy consistency. Your baby might stick out her tongue or gag when she first tries the cereal. There is a lot of coordination required to move food from the front of the mouth down to the throat, and this is the first time your baby is attempting the maneuver. Be patient and if it seem too difficult for her, try again in a few days. Please see the First Feeding FAQ section of our website to help set your expectations appropriately.
It is not recommended to make your own rice cereal because the cereal that you cook will not be iron fortified. Frankly, most of us don't have time to make our own cereal, but we have included the recipe for those industrious care-takers that might hate the taste of boxed, dehydrated, iron-fortified cereal. You might find that your baby likes your homemade cereal better.
Rice Cereal is in Week 1 of Babyfood101's Course - Please Join Us
Recommended products for your baby:
$29.99

As an Amazon Associate I earn from qualifying purchases
When is baby ready?
4 months old
How to buy
You will find it in boxes next to the jars of baby food in your grocery store.
Homemade Baby Food Recipe
From the Box:
Mix with warm formula, breast milk or water. To start one tablespoon of cereal for 4 tablespoons liquid. For the first month experiment with different consistencies - at first very runny and then thicker as you go. See what your baby easily swallows as he/she learns how to swallow solid food.
Make it yourself:
1/4 c. rice powder (short-grain brown rice ground in blender or food processor)
1 cup water
Bring liquid to boil in saucepan. Add the rice powder while stirring constantly. Simmer for 10 minutes, whisking constantly, mix in formula or breast milk. Serve warm. This will keep for 72 hours in the fridge or you can freeze it in cubes to serve later. Please see our Making Baby Food section for information on home made baby food storage.
How to store
In a dark cupboard it will keep for months.
Are there baby food jars?
No. But, you will see jars of food mixed with rice.
Should I buy organic?
Yes. This is a small extra cost - an your baby is so little that you might as well ensure that there is no possible pesticide residue in this food.
Adult Recipe
We will skip a recipe for rice cereal since it is really just a baby food...
Rice Cereal is in Week 1 of Babyfood101's Course - Please Join Us