Peaches or Nectarines
Peaches or Nectarines For Your Baby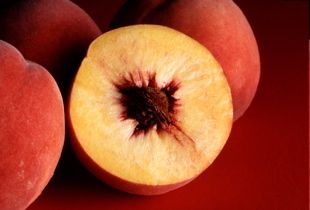 Peaches and nectarines come from the same tree species and are exactly the same except for their skin, fuzzy or not. Peaches are wonderful just fresh and a really easy first food for baby because of the soft consistency. But, it is difficult to find them except in the summer months so you will probably have to stick to jars of baby food until the right season. The problem with the peaches that you find in the grocery store throughout the year is that they are usually from South America. Unfortunately, manufacturers in the United States sell pesticides that are not FDA approved to growers in South America, and these pesticides end up back in our stores. There is no way to wash these off with a peach. Because of it's soft skin, the pesticide residue is actually INSIDE the peach. What you want to do is to buy them in the following order:
Organic
Local
from USA
or finally from South America (but wait until baby is at least one year old)
Peaches or Nectarines are in Week 7 of Babyfood101's Course - Please Join Us
Recommended products for your baby:
$9.99

As an Amazon Associate I earn from qualifying purchases
When is baby ready?
6 Months Old
How to buy
Do not buy canned peaches - the contain added sugar and the sugar free ones contain Sucralose (a chemical sweetener that you do not want to give baby). You could buy frozen peaches, but they might not taste great. So you must buy either jars or fresh peaches. You can find fresh peaches out of season BUT they probably have pesticide residue so you probably don't want to feed too many of them to baby. Try to find fresh organic peaches - expensive but delicious.
Homemade Baby Food Recipe
Cut in half and peel the skin off. Cut or mash up peach for baby.
How to store
Store on counter top and wait until ripe.
Are there baby food jars?
Yes.
Should I buy organic?
Yes. 94% of peaches sampled by the USDA were found to contain pesticides.
Adult Recipe
This became all the rage a few years ago. It is a delicious dessert.

Grilled Peaches
2 tablespoons light brown sugar
1/2 teaspoon cinnamon
4 fresh ripe peaches (unripe peaches will not work)
vegetable oil
vanilla ice cream (optional)
Heat broiler to high. In a small bowl, combine brown sugar and cinnamon. Cut peaches along the seam all the way around and twist halves off the pit. Brush cut sides with vegetable oil. Sprinkle cut sides with cinnamon sugar. Cook, cut side up under the broiler about 4 inches away. Cook until sugar is melted and fruit is tender, 5 to 10 minutes. Serve with vanilla ice cream (sprinkle on extra cinnamon sugar if you like).
Peaches or Nectarines are in Week 7 of Babyfood101's Course - Please Join Us