Carrots
Carrots For Your Baby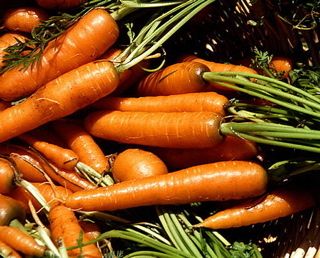 Here is a baby favorite - and packed with beta-carotene! There has been some concern about nitrate levels in carrots, and it was found that a large amount of nitrates can act as a kind of poison for very young babies. Please see our section on nitrates in the Foods to Avoid section of our website. But, there is no reason to believe that nitrates are a problem for your baby past 6 months old. Also, if you use organic carrots then the organic fertilizer has natural nitrates unlike chemical fertilizer which can create a higher concentration of nitrates. One way to avoid the whole problem is that jarred baby food is tested for nitrate levels so it should be safe.
Keep in mind, there is a big difference in taste from organic to non-organic carrots. Organic carrots tend to have a much stronger carrot flavor, while non-organic carrots can seem more watery.
Carrots in Week 4 of Babyfood101's Course - Please Join Us
Recommended products for your baby:
$24.99

As an Amazon Associate I earn from qualifying purchases
When is baby ready?
6 months old
How to buy
If you can find medium sized carrots with the leafy tops still on - these can be the freshest and tastiest. You can also buy the "baby" carrots which are bagged and already peeled. Baby carrots have been precut for easier snacking.
Homemade Baby Food Recipe
Steaming or microwaving carrots are the easiest methods to cook them. First peel the carrots because the peel has a bitter taste that baby probably won't like, unless you have purchased the baby carrots. Then cut the carrots into 1/2 inch slices.
Simmering - cover with water, and cook on high until soft enough for baby (about 5 minutes).
Microwaving - put them in a shallow bowl with 2 tablespoons water. Cover with a lid or plastic wrap. Microwave on high for 3 minutes, shake the container, and microwave at 1 minute intervals until carrots are tender.

Puree carrots in the water you cooked then in and/or add a little more liquid to get to desired consistency.
How to store
Store in plastic bag in the refrigerator for 2 weeks.
Are there baby food jars?
Yes.
Should I buy organic?
Yes. Carrots have a thin skin, so they are susceptible to pesticide contamination and they taste so much better if they are organically farmed.
Adult Recipe
Carrot and Raisin Salad
3 carrots (don't bother to peel them)
handful of raisins
2 tbs yogurt
salt and pepper
Grate carrots and add raisins. Add yogurt until coated and season with salt and pepper. Taste to correct seasonings..
Carrots in Week 4 of Babyfood101's Course - Please Join Us