Week 25: Kiwi Fruit and Blueberries
Kiwi Fruit
Kiwi Fruit For Your Baby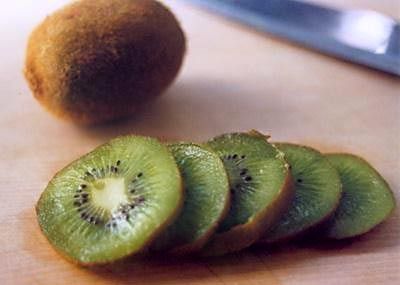 You probably were not fed kiwi fruit when you were a child because it wasn't available. Kiwi fruit originates from China but comes to us from New Zealand. It is quite delicious when ripe and a good size and consistency for baby. Don't worry about the small seeds in the fruit. The seeds are too small for your baby to choke on them. They are another great finger food, and soft enough for babies without many teeth.
Recommended products for your baby:
$15.97

As an Amazon Associate I earn from qualifying purchases
When is baby ready?
8 months old
How to buy
Kiwi fruit are picked before they are ripe, so you will probably find them to be fairly hard. You should wait until they are a little soft before cutting open. They will ripen well on the counter.
Homemade Baby Food Recipe
It can be difficult to cut up a kiwi because you feel like you are losing all of its fruit to the tough skin you must cut off. Just use a sharp knife and cut away. Serve in size appropriate for baby.
How to store
Ripen on counter and then store soft kiwi in the fridge until you are ready to use.
Are there baby food jars?
No.
Should I buy organic?
Kiwi fruit have tough skins, so pesticide residue is probably not a problem here.
Adult Recipe
Just toss them in fruit salad - mix them up with the blueberries that you will buy this week and add some yogurt and honey..
Blueberries
Blueberries For Your Baby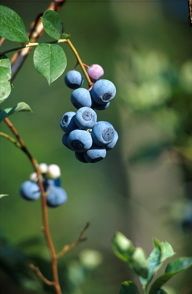 Blueberries are one of those miracle foods that doctors love. They are packed with antioxidants and low in calories. Be aware that small round objects can be choking hazards, so be careful when feeding blueberries to your baby. If they are large, go ahead and cut them in half. If your baby eats too many blueberries, they might develop a case of the "runs". Just be sure to cut him off if his poop starts to smell too much like blueberry pie.
When is my baby ready?
8 months old
Recommended products for your baby:
$12.99

As an Amazon Associate I earn from qualifying purchases
How to buy
You can buy fresh blueberries or frozen. If you can find "wild" blueberries they would probably be the best for your child.
Homemade Baby Food Recipe
Just wash and cut up into small bits so there is no chance of baby choking.
How to store
Fresh blueberries will keep in your fridge for a week.
Are there baby food jars?
No.
Should I buy organic?
No, blueberries were found by the USDA to contain very little pesticide residue.
Adult Recipe
This could be a starter for a meal, or a dessert, or just a fun thing to try. There is no reason baby can't sample some of this too. It incorporates plain yogurt, which you are probably still serving to baby. This recipe is adapted from Mark Bittman's "How to Cook Everything".

Blueberry Soup
2 cups blueberries fresh or frozen
2 cups water
1/2 cup sugar
1 teaspoon ground cinnamon
1 cup plain yogurt
Mix blueberries, water, cinnamon and sugar in sauce pan and cook at medium heat until blueberries fall apart (about 10 minutes). Puree mixture in blender and add yogurt. Serve cold with yogurt as garnish.
Eating tip of the week
Feed your baby and yourself the good stuff. On average Americans only spend 11% of their income on food. Don't be afraid to treat yourself to $6 per pound peaches if they look and smell great. Remember a scone can cost $2 too - and is not nearly as good for you.
Week #25 Shopping List
Baby Food
blueberries (fresh or frozen)

kiwi fruit

Adult Food
sugar

cinnamon

plain yogurt